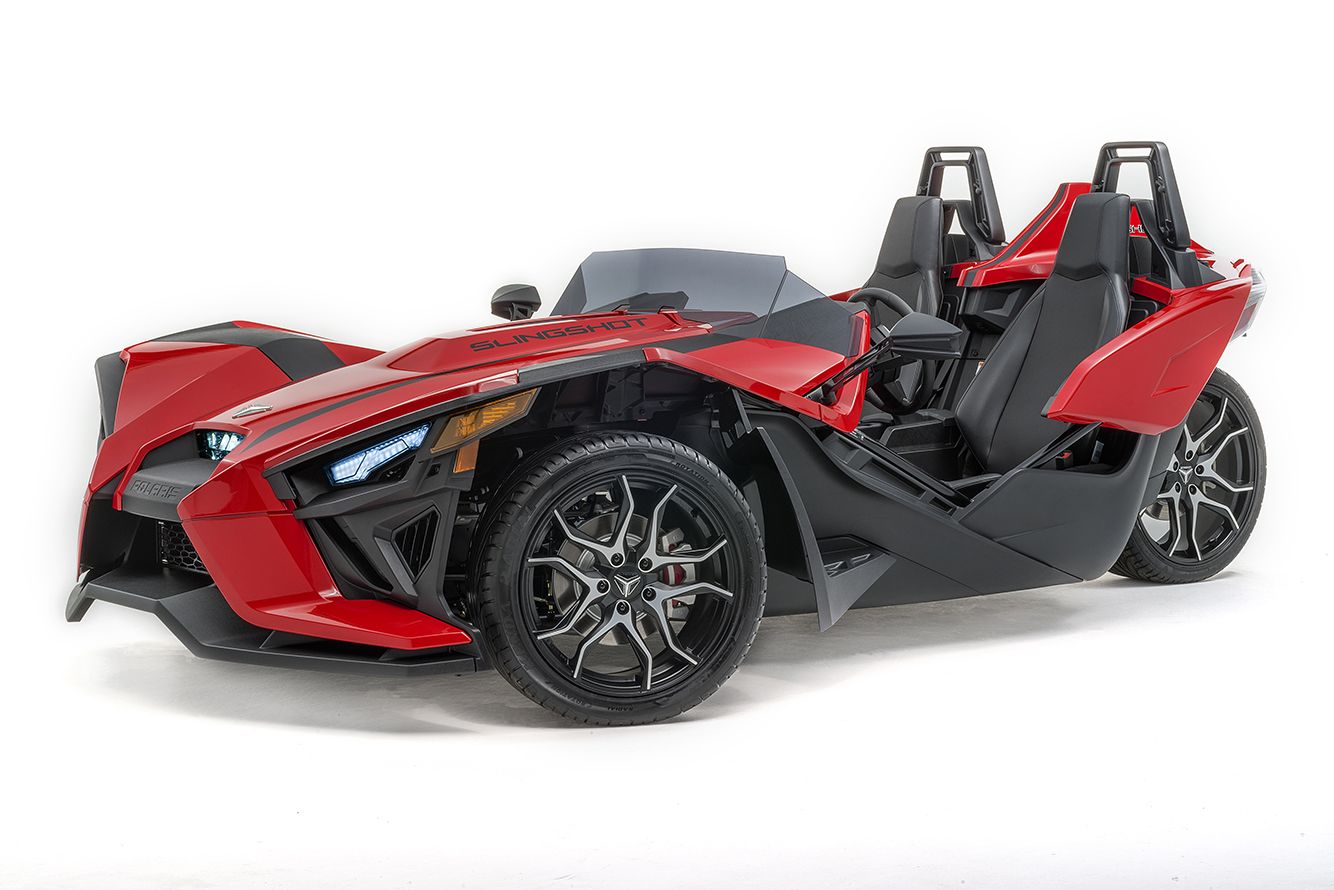 NOT TO WORRY! THE SLINGSHOT IS 100% WATERPROOF. WE PROVIDE RAIN-CHECKS IN THE EVENT OF INCLEMENT WEATHER (must cancel within 48 hours prior to the scheduled time and there must be at least a 50% chance of inclement weather).
WHAT TYPE OF TRANSMISSION DO THEY HAVE?
Our Polaris Slingshots have either automatic or manual transmissions to choose from.
Although 99% of the time you get the color you choose, every now and then we have to substitute due to events beyond our control, there is no discount if this happens. You will receive the same vehicle just a different color. 
WHAT IS YOUR REFUND POLICY?
DUE TO THE NATURE OF OUR BUSINESS AND THE HIGH DEMAND FOR OUR VEHICLES, WE DO NOT OFFER REFUNDS. IF YOU MUST CANCEL PRIOR TO 48 HOURS, DUE TO INCLEMENT WEATHER, YOU CAN PURCHASE A GIFT CARD FOR THE REMAINDER OF THE BALANCE AND SCHEDULE ANOTHER DAY.
LA STATE LAW DOES NOT REQUIRE A HELMET FOR THE POLARIS SLINGSHOT, BUT WE DO HAVE HELMETS AVAILABLE AND ALWAYS ADVISE WEARING PROPER EYEWEAR AS WELL AS A FULL FACE HELMET.
ARE THERE PENALTIES FOR LATE RETURN? 
YES, THERE IS A $100 PENALTY FOR RETURNING THE SLINGSHOT LATE PLUS THE PRO-RATED AMOUNT. WE RESERVE THE RIGHT TO CANCEL BOOKING IF YOU ARE NOT ON TIME. THIS CAN BE AVOIDED WITH PROPER COMMUNICATION. WE RESERVE THE RIGHT TO BOOK THE SLINGSHOT TO SOMEONE ELSE IF YOU ARE OVER 15 MINUTES LATE. THIS WILL RESULT IN A POSSIBLE RESCHEDULE. IF YOU ARE UNABLE TO RESCHEDULE, NO REFUND WILL BE PROVIDED OF DEPOSIT PAID TO HOLD THE DAY .
HOW EARLY SHOULD I SHOW UP?
WE ADVISE RENTERS TO SHOW UP ABOUT 15 MINUTES EARLY. TIME START WHEN BOOKED, NOT WHEN YOU DRIVE OFF THE LOT.
YOU NEED A VALID UNEXPIRED PERMANENT DRIVERS LICENSE* (25 years or older) AND CREDIT/DEBIT CARD (for rental cost and $250 security deposit). 
*Please keep in mind we CANNOT accept any occupational, paper, temporary, or expired driver license.*
WHERE DO I GO WITH MY RENTAL?
TRAVEL WHERE YOU WOULD LIKE.
....................................................................................
Pick up location is at:
11496 Timber Ridge Dr.
Keithville, LA 71047
(318) 564-8790
*Reservation Required*
...................................................................................
Rental Requirements:
1. Valid, Unexpired, Permanent Driver's License (21 years or older)
2. Credit card or debit card (for $250 security deposit)
3. Mandatory Accidental Damage Waiver ($15)
*Please keep in mind we cannot take any occupational, paper, temporary, or expired driver license.*
Drive times are limited to 200 miles per day.  $0.75 per mile after balance.
$500 security deposit required for 24 Hours & Ages 21-24